BUSINESSES ON SITE
You'll find several wonderful businesses on site that proudly call your airport home.
NIAGARA SKYDIVE CENTRE INC.
The NIAGARA SKYDIVE CENTRE INC, Ontario's Premier Tandem Specialist provides one the most exciting experiences one can ever imagine with the safety margins of a large drop zone coupled with experienced trainers, pilots and staff. Spacious facilities with up-to-date equipment and procedures will give you the confidence to take "The Leap of Faith!
ST CATHARINES FLYING CLUB
The St. Catharines Flying Club is one of Ontario's oldest and respected flight training and aircraft rental/sightseeing facilities. Their integrity and dedication to safety has stood the test of time. Whether you want to become a pilot, are a pilot or just want to experience the beauty of Niagara from the air, look no further!
www.stcatharinesflyingclub.com
ACCIPITER RADAR TECHNOLOGIES INC.
Accipiter Radar Technologies Inc. is an anchor tenant that continues to develop technologies in aviation that enhance safety and integrity of the airspace we fly in and beyond.
Get in Touch
For hangar rentals and leases, click here
For flying lessons and sightseeing, click here
For skydiving, click here
For fuel price, click here
For Air Cadets, click here
For van rental and COPA, click here
Niagara Central Dorothy Rungeling Airport may be reached by email or by phone at 905-714-1000.
Facility Operator: Bill Chernish
The office is located in the administration building across from the main hangar.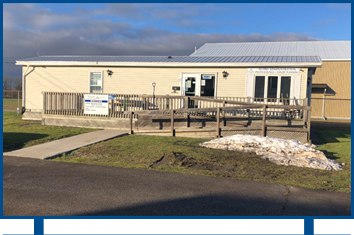 View Full Aerial Map