PILOT INFORMATION
Are you a pilot? Below should be everything you need. Something missing? Please reach out!
OPERATIONS
Airport Phone Number: 905-714-1000
Airport Facility Operator: Bill Chernish
Email: info@niagaracentralairport.ca
EMERGENCY: CALL 911
FUEL SERVICES
$2.72/l (includes HST. updated April 29, 2023)
100LL
24 hour cardlock system
Self-serve
Instructions in kiosk
Ladder on site
NON-STANDARD TRAFFIC PATTERNS
DUE TO PARACHUTE JUMPING OVER THE AIRPORT DO NOT OVERFLY THE FIELD
RIGHT HAND CIRCUITS RUNWAYS 23, 29, 34
CTAF: 123.5
SEE DIAGARAM BELOW (NOT TO BE USED FOR NAVIGATION)
TIE DOWNS
We have plenty of space to tie down your aircraft for overnight, monthly and yearly rentals.
Immediately available.
Always accessible.
Click here for application form
Get in Touch
For hangar rentals and leases, click here
For flying lessons and sightseeing, click here
For skydiving, click here
For fuel price, click here
For Air Cadets, click here
For van rental and COPA, click here
Niagara Central Dorothy Rungeling Airport may be reached by email or by phone at 905-714-1000.
Facility Operator: Bill Chernish
The office is located in the administration building across from the main hangar.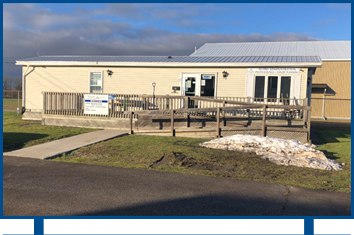 View Full Aerial Map
FAST FACTS
Runway 05/23 is 3,493 feet long and 100 feet wide, paved and lighted.
Runway 16/34 is 2,663 feet long and 50 feet wide, paved and unlighted.
Runway 11/29 is 2,341 feet long and 60 feet wide, turf and unlighted.
The Niagara Central Airport Commission internally plows the paved runways, taxiways and apron for year round enjoyment of our facilities.
The turf runway is open seasonally.
We are CBSA approved for AOE/CANPASS.
We have an access road on airport property that allows seaplanes to be put in and taken out of the Welland River.
There is an AED (Automatic External Defibrillator) on site in the Administration Building.
COPA 149 in collaboration with the airport provides a flight planning area, lounge , self serve snacks and a gender neutral accessible restroom in the Administration Building-Open daily 8am to 4pm.
Access for pilots 24 hrs by use of the London FIC frequency as door code.
Picnic tables are available on the north lawn of the main hangar building for public use.
Ample parking is available for the public.
COPA provides a courtesy van, please visit COPA149 website.