HANGAR SPACE FOR RENT
Download Hangar Rental Application (.PDF)
Hello fellow aviators
The Niagara Central Airport Commission is proud to announce construction of a new 5-unit
hangar to be constructed this spring with direct access to Taxiway "A" and rear vehicular access
from the new roadway being constructed parallel to Taxiway "A", which will in the future
become a dual use taxiway and access road.

We have maintained a list of interested parties in order of earliest requests for information and
will honour that order for 2 weeks before offering hangar space to the flying public at large,
adding potential interested parties to the bottom of the list in the order in which they are
received.

Enclosed is a price, term and basic conditions review, conceptual exterior drawing, floor plan,
site plan, specifications as well as an application for your review. Please note drawings are for
illustration purposes and are not to scale. Construction is anticipated to begin in June and be
completed in September. Only 1 hangar per individual will be allowed to be reserved.

THE PROCESS
After all interested parties currently on the list have had the opportunity to lease, we will begin
contacting others and providing lease documents for review, in the order in which we have
received them. Within 1 week the signed lease and a deposit cheque for first and last month's
rent must be received by us or your position on the list will be forfeited.

Once all 5 hangar positions have been awarded, we will gauge the interest and consider
building another 5 units. Please note that currently the commission is not accepting
applications for private hangar property leases. We are accepting applications for commercial
hangar property leases.

Thank you for your interest in basing your aircraft at Niagara Central Dorothy Rungeling Airport
and we look forward to you being part of our growth.
Bill Chernish
Airport Facility Operator


PRICES AND TERM LENGTHS
$675.00 plus HST per month 4 year to 10-year term
$725.00 plus HST per month 1 year to 3-year term


BASIC CONDITIONS
The following basic conditions are provided for your review. A comprehensive lease agreement
document will incorporate these conditions as well as standard lease terms.
At the end of your term there is no guarantee that your unit will be available
No other vehicles permitted in hangar
Niagara Central Airport Commission will be named as co-insured for a minimum of $2,000,000.00 for public liability and property damage
Property taxes paid by Niagara Central Airport Commission
Storage of reasonable tools permitted
Electric bill paid by tenant
External parking for 1 vehicle
"Kit builds" permitted in hangar
Yearly rate adjustment for rent based on Consumer Price Index
For each year of the term that you request, a fuel discount of 1 cent per litre per years of term ( ie: 5 year term=5 cents per litre discount), up to 10 cents per litre maximum and a maximum of 400 litres per month with no carry over permitted
Fuel must be for your aircraft stored in our hangar
It is anticipated that the discount will be deducted automatically through the automated fuel kiosk
Click here for site (.JPG)
Click here for floor plan (.JPG)


SPECIFICATIONS
Approximately 41'6" x 31'6"x12' high
40'x10' Clear opening electric bifold hangar door
Man door in bifold
6" Concrete Slab Floor
Units separated by metal cladding
Ceilings metal cladding
40 amp metered electrical service
4 LED ceiling light fixtures
3 electrical outlets
15'x65' Asphalt apron to taxiway "A"
Stone parking lot beside building (1 vehicle per unit)
Pole Barn style building
Metal roof and siding
Download Hangar Rental Application (.PDF)
LAND LEASES-COMMERCIAL
We are accepting applications for aviation related commercial use land leases for Hangars or Land. Please contact the Airport Facility Operator.
LAND LEASES-PRIVATE
At this time we are not offering land leases for private hangars.
Get in Touch
For hangar rentals and leases, click here
For flying lessons and sightseeing, click here
For skydiving, click here
For fuel price, click here
For Air Cadets, click here
For van rental and COPA, click here
Niagara Central Dorothy Rungeling Airport may be reached by email or by phone at 905-714-1000.
Facility Operator: Bill Chernish
The office is located in the administration building across from the main hangar.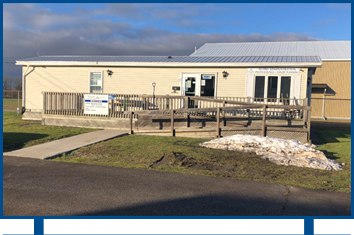 View Full Aerial Map